Key West Inn Hotel Suites in Key Largo
Snorkeling Tours discounts available when you stay at this hotel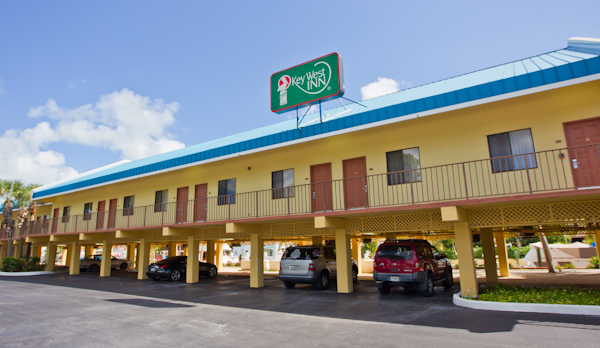 Show KWI room key to receive $5.00 off snorkel trip (per person)
Not valid with other discounts (Discount off full price)
The "Sundiver Fleet" is docked at the "Key West Inn " located in Key Largo. We offer one of the best deals in town for a suite, including a fully equipped kitchen with microwave and dishwasher. The master suite located upstairs has a queen bed and full sized bathroom. Downstairs is a queen sized pull-out couch and another full sized bathroom. Adjoining the living room is the kitchen with a sliding glass door which leads onto a screened porch that overlooks the canal with the boats docked below. The swimming pool is also located on the second floor.
Notice the photo above, The Sundiver ticket booth is located on property of the Key West Inn and our boat leaves from the canal just behind the hotel on property only 30 seconds from your room.

Important Note: Key West Inn is NOT located in Key West. We are located in Key Largo at Mile Marker 100. The exact address is 201 Ocean Drive, Key Largo, Florida 33037.
Hotel reservations and questions can to be made directly with the hotel
If you snorkel with Sundiver you receive $20 off the hotel room rack rate:
Key West Inn Phone: 1 (305) 451 5091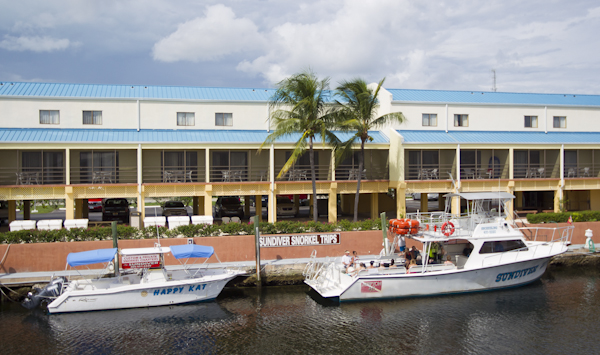 The Sundiver Boat fleet is docked on location of the Key West Inn in downtown Key Largo. You won't have to drive anywhere to have fun. Book a room here and get free parking at the hotel....Just wake up, throw on your sandals and walk downstairs to the ticket booth and snorkel boats.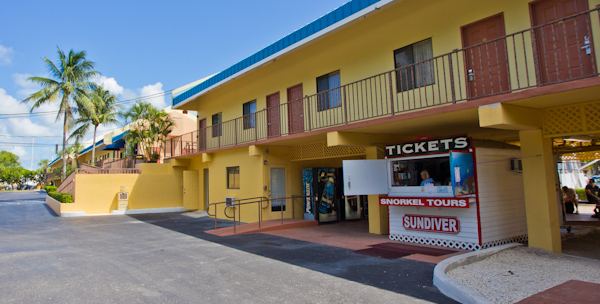 Snorkeling Tours discounts available when you stay at this hotel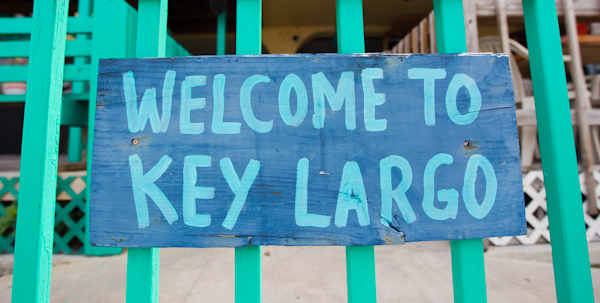 For Snorkeling and Hotel Information:
Local Phone Number: 1 (305) 451 2220